Stamped Concrete Contractor
Stamped concrete is a popular choice of material for many contractors. It offers the look and feel of real stone or brick, but is more affordable and easier to install than other materials.
If you are looking for a reliable stamped concrete contractor, it can be difficult to know which one will provide quality workmanship and excellent customer service. In this article, we'll discuss what makes an outstanding stamped concrete contractor so that you can make an informed decision when selecting your contractor.
Stamped concrete is a great way to add style and texture to any surface while also being cost-effective. With the help of an experienced professional, you'll get long lasting results without having to break the bank.
But with all the options out there, how do you choose the right contractor? That's where this article comes in – read on find out how to identify a top-notch stamped concrete contractor who will deliver superior craftsmanship and exceptional customer care every time!
Considerations For Choosing A Contractor
When it comes to choosing a stamped concrete contractor, there are several considerations that should be taken into account.
One of the most important factors is cost - understanding what you're willing and able to spend on your project will help you determine whether or not a prospective contractor's services are within reach.
It's also essential to do some research regarding their past work and experience in order to ensure they have a good track record when it comes to delivering quality results.
Finally, take time to talk with a few contractors about their vision for the job and make sure they understand exactly what you want.
Doing so allows both parties to come together and create an outcome which meets everyone's expectations. The next step then is learning more about the qualities of an outstanding stamped concrete contractor – one who can provide excellent service while meeting all required standards and guidelines.
Qualities Of An Outstanding Stamped Concrete Contractor
When considering a stamped concrete contractor, it is important to look for qualities that make them stand out from the rest. For example, The Concrete Pros MN are an experienced team of contractors that specialize in providing top-notch service and quality craftsmanship on all their projects.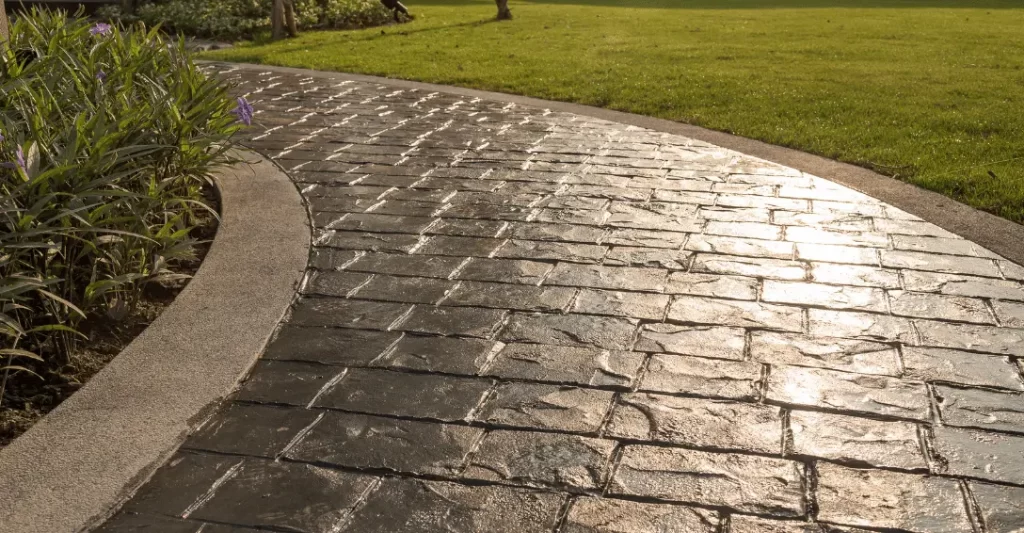 From the initial consultation process to the final installation walkthrough, they take extra steps to ensure customer satisfaction throughout every stage of the project. The Concrete Guys employ only highly trained technicians who have extensive knowledge of decorative concrete practices and techniques.
They use only premium materials with cutting edge technologies to create beautiful outdoor living spaces that can withstand harsh weather conditions. Furthermore, they communicate openly and honestly with customers about progress updates and any changes or adjustments needed during the job. Their commitment to superior workmanship has earned The Concrete Pros MN a loyal following among homeowners in their area.
As testament to this, many of their clients are repeat customers who refer friends and family members for similar projects due to their positive experiences working with the company. With such impressive credentials, it's easy to understand why so many people choose them when shopping around for a reliable stamped concrete contractor. Beyond these noteworthy traits lies one more factor: cost.
Factors That Determine Price
The cost of stamped concrete installation can vary greatly, depending on a variety of factors. It's important for homeowners to consider these aspects before entering into any contract with a contractor.
Below is a list that outlines the main elements that affect pricing:
Design complexity: The more complex the design, the higher the cost will be due to additional material and labor requirements.
Size of area: Simply put, larger areas require more materials and take longer to install, thus increasing overall costs.
Material type: Different types of concrete come at different prices, so it's worth considering which one works best for your project.
Labor costs: Depending on where you live, labor costs may also influence pricing since contractors in some regions charge more than others.
Additional features: Adding special features such as sealers or integral colors could incur extra charges.
Knowing what goes into determining price can help homeowners make an informed decision about their project budget and avoid unpleasant surprises down the line.
In addition to being aware of how much it all might cost, there are many benefits to hiring a professional stamped concrete contractor as well.
Advantages Of Hiring A Professional
Hiring a professional stamped concrete contractor can save you money in the long run, as they have the experience and knowledge to complete the job correctly the first time.
Plus, they can offer quality results that will be more durable and aesthetically pleasing than if you chose to do it yourself.
It may cost more upfront, but it's worth it considering the cost savings you'll get from doing it right the first time.
You'll also be able to rest assured that you won't have to redo the job later down the line.
Cost Savings
Are you thinking of getting stamped concrete for your home or commercial property? Hiring a professional contractor can save you time and money in the long run. Not only do they have the expertise to quickly install stamped concrete, but they also know where to source the best materials at cost-effective prices.
Having an experienced contractor complete your project is key when considering cost savings. They will be able to provide advice on what type of material may fit better with your budget while still providing quality results that last.
Furthermore, they'll be able to suggest different designs and colors that could help reduce installation costs without compromising on aesthetic appeal.
And if any unexpected issues arise during or after installation, a qualified contractor can tackle them right away. This eliminates costly delays and repairs down the line, saving you even more money in the process.
So it pays off well to invest in top-notch service from a trusted professional who knows how to get work done efficiently!
Quality Results
At the end of the day, you want quality results that will last. That's why it's important to look for a contractor who is experienced in finishing stamped concrete projects and has proven results.
With their expertise, they can suggest materials that are both cost-effective and aesthetically pleasing. They'll also be able to provide advice on how best to design and color your project without compromising on its overall appeal.
And if any issues come up during or after installation, an experienced contractor can handle them quickly so there won't be costly repairs down the line.
All in all, hiring a professional ensures that your project yields high-end results at an affordable price!
Tips For Finding The Best Stamped Concrete Contractor
Finding the right stamped concrete contractor can be a challenge. It is important to do your research and obtain multiple bids before making any decisions. A good place to start is by asking for recommendations from friends, family members, and neighbors who have had similar work done in their homes or businesses. Make sure that you also get references from each company so that you can verify their reliability and quality of work.
Once you have narrowed down your list of contractors, take some time to visit the websites of each one, read reviews from past customers, and look at pictures of completed projects they've worked on. This will help you determine which ones specialize in the type of project you are looking for as well as give you an indication of what kind of customer service they provide.
When visiting with potential contractors, make sure to ask questions about materials used, process involved, timeline expectations, payment terms and warranty coverage if applicable.
When it comes time to choose a contractor it's essential to go with one who has experience working on large-scale projects like yours and who carries appropriate liability insurance since this minimizes risk associated with accidents or damage during installation or repair processes.
Additionally, ensure that the contractor offers competitive pricing without sacrificing quality standards when providing services. Taking all these factors into consideration should lead you to find a reliable and trustworthy stamp concrete contractor capable of completing your project efficiently and effectively within budget.
Frequently Asked Questions
What Is The Typical Lifespan Of A Stamped Concrete Surface?
Ah, the age-old question: What is the typical lifespan of a stamped concrete surface? We all know it's an important factor to consider when deciding whether or not to invest in this type of material.
Well, while there isn't an exact answer - after all, you don't want your driveway lasting longer than you do! - we can say that on average they last anywhere from 15 to 25 years with proper maintenance and care.
So whatever your plans may be, rest assured that installing a stamped concrete surface will stand the test of time.
Are There Any Maintenance Requirements For Stamped Concrete?
Stamped concrete requires regular maintenance to keep it looking great for years.
This includes sealing the surface every two or three years, along with occasional washing and scrubbing of dirt and debris.
In addition, during winter months it's important to use a de-icing agent when snow or ice is present in order to prevent any surface damage from occurring due to freezing temperatures.
Taking these steps will ensure that your stamped concrete lasts for many years.
Is Stamped Concrete Suitable For Outdoor And Indoor Areas?
Stamped concrete is a great solution for both indoor and outdoor areas alike! Whether you're looking to spruce up your patio or add some character to your interior, this type of decorative concrete can be used in various ways.
It's also incredibly durable, so it won't chip or crack over time even if it gets exposed to the elements outdoors.
With proper maintenance, stamped concrete can last for years without losing its luster or vibrancy – making it an excellent choice for those who want to invest in their home or business.
How Quickly Can A Stamped Concrete Project Be Completed?
Stamped concrete projects can be completed relatively quickly, depending on the size of the area. Generally speaking, a small patio or walkway may take 1-2 days to finish, whereas larger areas such as driveways and pool decks could take up to 5 days.
It's important to note that since stamped concrete requires time for curing and drying before it is ready for use, total project completion times will vary accordingly.
What Kind Of Warranty Is Offered By The Contractor?
The typical warranty offered by a stamped concrete contractor is usually between 1 and 3 years.
This covers any defects in the craftsmanship of the installation, such as cracking, spalling or flaking.
The length of the warranty may vary slightly depending on the contractor, so it's important to ask about specific details before signing a contract.
Stamped Concrete
Stamped concrete is a great choice for any homeowner looking to improve the look of their outdoor or indoor space. Not only does it have an attractive finish, but it also has a long lifespan and requires minimal maintenance.
A stamped concrete project can be completed quickly, with contractors able to complete most projects in just a few days. Additionally, many contractors offer warranties on their work, so homeowners can rest assured that they're getting quality results.
I once had the pleasure of working with a stamping contractor who did amazing work at my home. He was able to transform my patio area into something beautiful, creating a stunning oasis right in my backyard!
His attention to detail and commitment to customer satisfaction made him stand out as one of the best professionals I've ever worked with.
Are you Ready To Get Your Project Started?
Drop us a line today for a free quote!