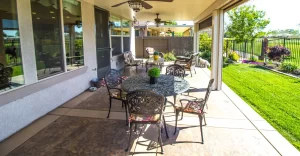 Stamped Concrete Patio Stamped concrete patios are quickly becoming one of the most popular home improvements. In fact, according to the National Association of Home Builders, more than 25% of all outdoor home-improvement projects involve adding a patio. A stamped concrete patio is an excellent choice for homeowners looking to add beauty and value to…
WHAT OUR CUSTOMERS ARE SAYING ABOUT US...
The whole team was easy to work with. They helped us figure out the best layout. We were grateful to have someone who clearly knew what they were doing to give us the patio that we envisioned. We would highly recommend Arturo and his team to everyone!
⭐ ⭐ ⭐ ⭐ ⭐
Excellent job. Very professional. Knowledgeable of business. Repaired Front stairs and walkway. I was very pleased with my stairs and walkway. Would highly recommend.
⭐ ⭐ ⭐ ⭐ ⭐