Concrete Sidewalks/ Walkways
Sidewalks play a big role in keeping your home both accessible and aesthetically appealing.
From decorative concrete walkways that lead up to your front door to rustic cantilever staircases that look and feel like natural stone, our experienced concrete Sales team can help design and install beautiful concrete features for every residential application.
Rethink What's Possible With Decorative Concrete
When people imagine concrete walkways, rough textured, undifferentiated gray slabs are what come to mind. But, concrete can do so much more! Our expert cement masons can add texture and color to your walkway, giving it an elegant look which will last for decades.
Concrete is a composite material composed of fine and coarse aggregate bonded together with a fluid cement (cement paste) that hardens (cures) over time.
Concrete sidewalks are installed so pedestrians may have a strong, level, and consistent traveling path through the right of way and often through grassy sodden areas.
A sidewalk, pavement, is a path along the side of a road.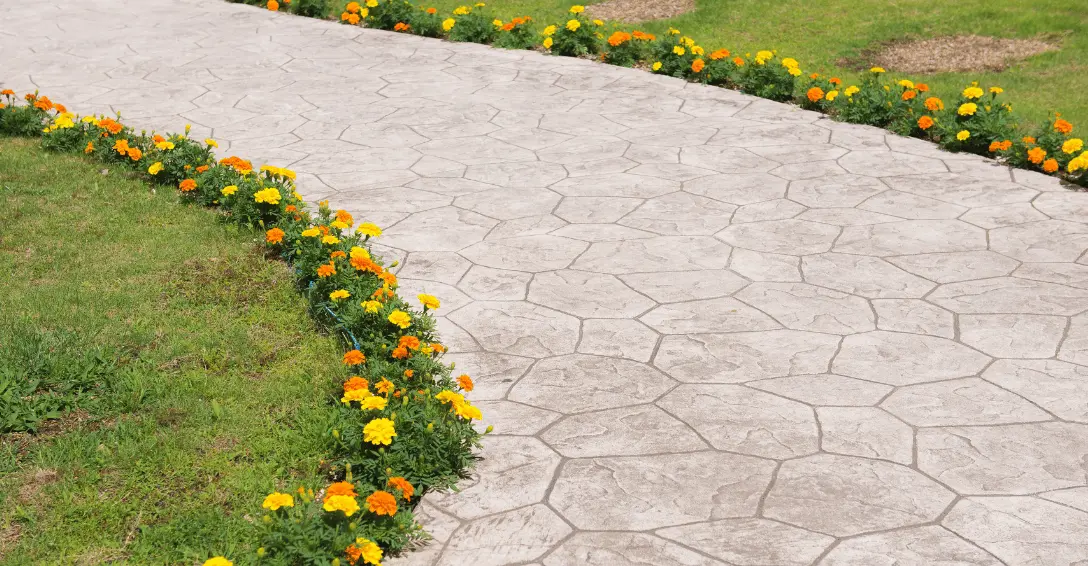 With a Good Walkway, Form Follows Function
A good pathway connects elements of your yard without impeding your stride or disrupting the flow of your landscaping. Our decorative concrete walkways offer a superior solution to individual paving stones, while still providing the look of natural stone. From ADA-compliant sidewalks to winding decorative pathways, we install quality concrete that will stay level and last longer than pavers.
Concrete Sidewalk- Benefits
Concrete sidewalks, also known as cement sidewalks or pavement, are a common feature of urban and suburban landscapes. They are used to provide pedestrians with a safe and stable surface to walk on, separating them from vehicular traffic.
There are several benefits of concrete sidewalks:
Durability: Concrete is a strong and long-lasting material that can withstand heavy foot traffic, inclement weather, and the weight of wheeled vehicles. This makes it an ideal choice for sidewalks, as they are often subjected to heavy use and exposure to the elements.

Low Maintenance: Concrete sidewalks require minimal maintenance and repairs. They may need to be sealed or resurfaced periodically to keep them looking new, but they do not require frequent replacement like some other materials.

Cost-effective: Concrete sidewalks are relatively inexpensive to install and maintain when compared to other paving materials. This is especially true over time, as concrete sidewalks are built to last for decades or even centuries with little maintenance.

Accessibility: Concrete sidewalks can be designed to be accessible for people with disabilities, such as wheelchair ramps or braille signs.

Urban aesthetics: A well-constructed concrete sidewalk can enhance the appearance of a street or community, as well as improve the overall aesthetic of a neighborhood.

Environmental benefits: Concrete sidewalks also has environmental benefits, they can help to reduce the amount of runoff by absorbing water, and also has a positive impact on air quality by reducing dust and pollution.
In conclusion, concrete sidewalks are a popular and cost-effective option for providing safe and stable walking surfaces for pedestrians. They are durable, low-maintenance, and can be designed to be accessible for people with disabilities. Furthermore, they can enhance the appearance of a neighborhood, and have environmental benefits as well.
WHAT OUR CUSTOMERS ARE SAYING ABOUT US...
The whole team was easy to work with. They helped us figure out the best layout. We were grateful to have someone who clearly knew what they were doing to give us the patio that we envisioned. We would highly recommend Arturo and his team to everyone!
⭐ ⭐ ⭐ ⭐ ⭐
Excellent job. Very professional. Knowledgeable of business. Repaired Front stairs and walkway. I was very pleased with my stairs and walkway. Would highly recommend.
⭐ ⭐ ⭐ ⭐ ⭐